Why TNi is the Best Trucking Company to Work for in Texas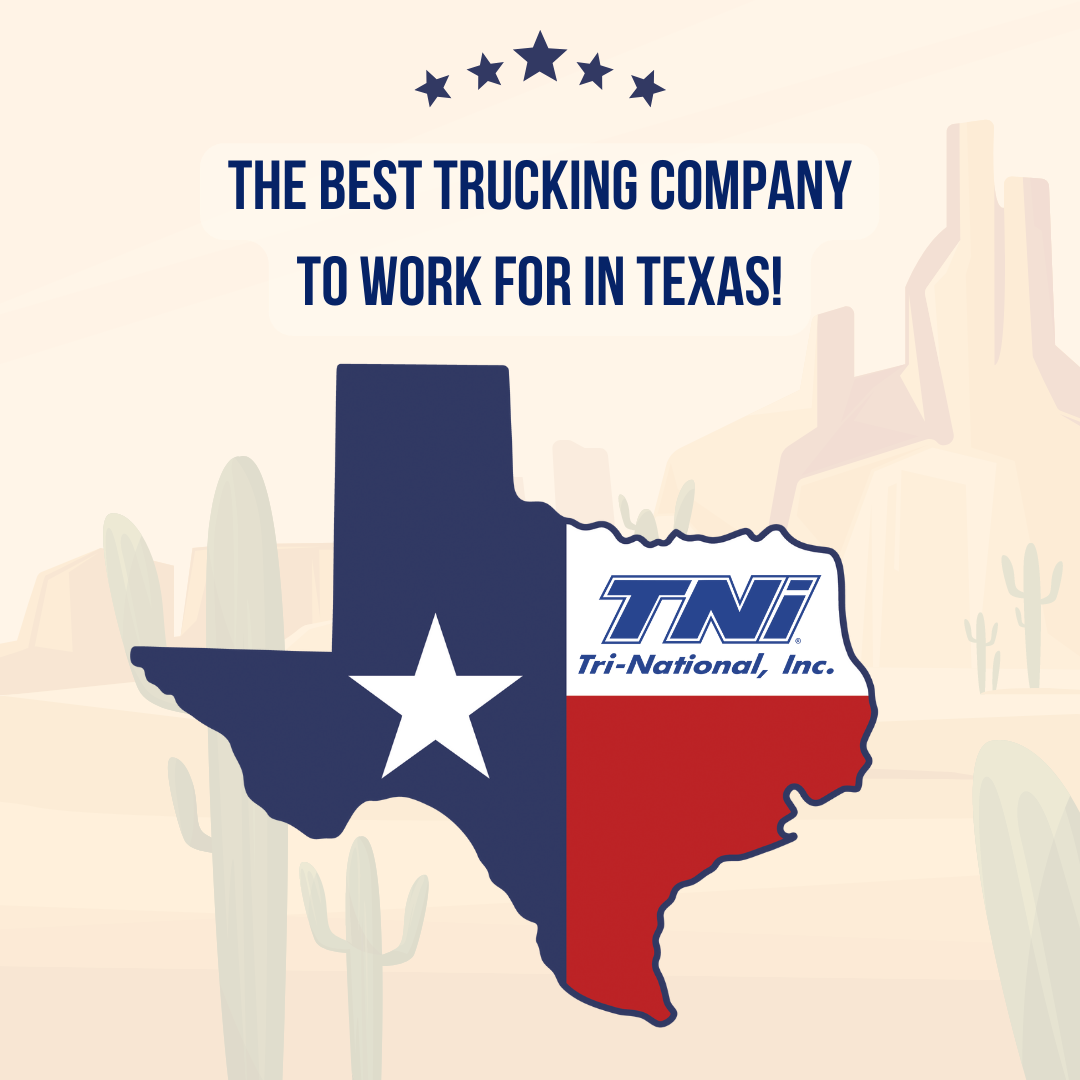 When you think of determining the best trucking company to work for, what comes to mind? Do you care about great pay and benefits? A supportive work family? Is time off the road important to you? If you are like most successful professional drivers in the trucking industry, you likely value all of these traits and many others.
Truck drivers love working for Tri-National and we are proud to be one of the best trucking companies in Texas. With five Texas terminals in Del Rio, Laredo, Pharr, San Antonio, and Texarkana, half of TNi's truck drivers reside in the Lone Star State.

What to Look For in a Trucking Company
With Repetitive Lanes through the Midwest, TNi truck drivers move freight from the Southwest Texas area to Detroit and Canada. We have central corridor routing as a third-party logistics (3PL) provider, with no East Coast or West Coast routes.
Professional tractor-trailer operators in Texas look for companies like ours because of our home time structure, the respect and support we provide our drivers, and the top pay and benefits we provide to our team. These measures and many others make Tri-National the best trucking company to work for in Texas.
We provide:
Highly competitive pay, health coverage, etc.
Generous truck driver home time
Flexible scheduling (full-time, part-time, etc.)
State-of-the-art equipment
Supportive programming
Strong supply chain connections
Job security
A commitment to safety
No East/West Coast travel
Tools and resources for success
First-class company reputation
Industry Leading Truck Driver Benefits
Through a number of initiatives, Tri-National leads the trucking industry with numerous truck driver benefits, including unlimited home time, sign-on bonus, family health/dental/vision, safety bonuses, paid vacation, and more. TNi truck drivers are paid for loaded and empty miles, as well as practical miles. In addition, TNi drivers are provided new Volvo trucks equipped with safety features, refrigerators and inverters.
Learn more about Tri National's truck driver benefits.
Award-Winning Trucking Company
In addition to our benefits packages and support systems that are built to provide resources for the open road, Tri-National takes pride in our commitment to female truck drivers. So many talented women drive and provide guidance for our fleet. Our organization works hard to create a supportive environment for women and we have been recognized for three years in a row by the Women in Trucking Association for doing so. Tri-National is one of the top companies for women to work for in trucking and we cherish the positive impact of our female team members.
Apply for A Position
From team truck driving to flexible home time, Tri-National makes it a point to give back to our Texas truck drivers who work hard and keep us moving. Work for the best trucking company in the Lone Sstar state and be rewarded for your dedication to our customers and team. Contact us today for more information about what we have to offer and begin your next journey with us. Apply today online or call +1 (866) 378-5071 to speak with a recruiter!