Winter Truck Driving Tips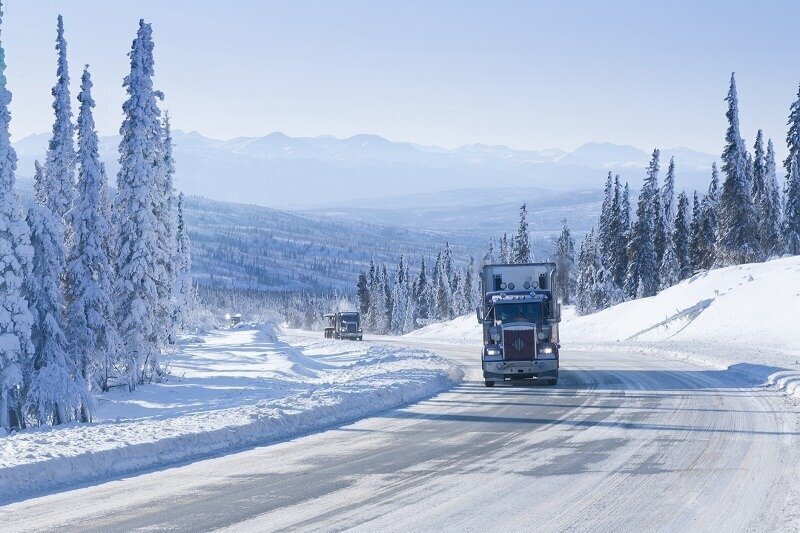 Learn How to Stay Safe With These Winter Truck Driving Tips

When driving a semi-truck in winter conditions the safety of you as the driver and others on the road is more at risk. Hazardous road conditions such as heavy snowfall and black ice can cause poor traction, low visibility, and reduce ability to break or stop. With a staggering 17% of all car accidents taking place during the winter months, it's important to learn how to be prepared and safe while at work.
What sets the seasoned driver a part from others on the road, is their working knowledge of preventative driving safety and their adaptable driving style. Whether traveling a short or long distance it's important to keep these safe driving tips in mind if you encounter any dangerous conditions.
1. Be on the Lookout for Black Ice
Black ice is invisible for the most part, and can trick drivers into thinking the road is merely wet. Black ice forms most commonly at night or in the early morning when the sun hasn't warmed the roads yet. Most importantly you don't want to overreact, instead if you feel the back end of your truck sliding, make a very gentle adjustment to the steering wheel rather than slamming on the brakes or steering in the opposite direction.
2. See and Be Seen
It's important to keep a vigilant eye on all your surroundings including in front of you and on either side of your truck. Also, be sure all your lights are working properly including your taillights which when covered in ice and snow can become invisible to other drivers. Be sure to check your taillights to prevent and avoid accidents.
3. Slow Down
You have to lower your driving speed to match the conditions of the roads. Driving on icy and snowy roads can be unpredictable, so give yourself time to maintain a safe speed and distance.
4. Keep a Buffer Zone
When the snow is so heavy and visibility is low you have to keep a safe distance between yourself and the vehicle in front of you. If you see the taillights of the vehicle ahead of you, you may be approaching too quickly. Try to stay away from the pack, if someone leading the pack makes a mistake you don't want to have to make the same one or react to theirs.
5. When In Doubt, Slow Down and Park
In white out or 'blinding snow' conditions try to find a truck stop or other rest area rather than stopping on the side of the road. Other drivers may not see you and accidently drive into your truck.
6. Keep Emergency Supplies
Keep the necessities in your vehicle in case anything bad happens. Emergency supplies can include extra blankets, warm clothing, canned food, water and full diesel tanks. Also, your cell phone batteries can freeze in extreme cold, so it's best not to leave your phone in your truck for a long period of time.
At Tri-National the safety of our drivers and the other drivers on the road is very important to us, and we hope you take all of these safety tips into consideration while driving this winter season. We believe great service comes with great drivers and we have some of the best world-class drivers in the industry. We offer flexible home time, excellent health benefits, paid- vacation and bonus programs and encourage you to join our team by contacting us and applying on our career page.