Third Party Logistics Provider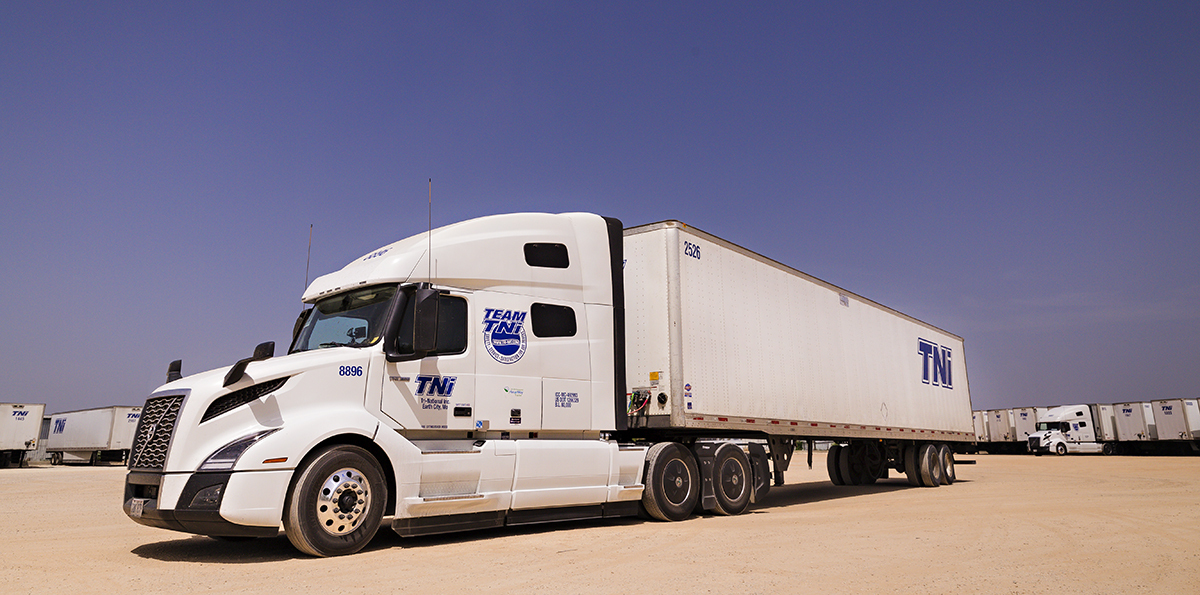 ---
Third Party Logistics Provider
Tri-National, Inc. is a professional third party logistics provider (3PL), offering a comprehensive suite of services from transit offerings and tracking mechanisms, to warehousing and logistics services such as order fulfillment, product distribution, and more.
Our clients often rely on us to handle the pain points often associated with their third party logistics needs, including:
Logistics Operations
Warehousing, Distribution, & Fulfillment
Shipping & Receiving
Support
More!
Tri-National provides an industry difference with expertise handling every aspect of North American transit. Use our custom-designed 3PL services for your cross border door-to-door needs and domestic truckload orders. We are connected with an extensive network of partner carriers in the United States and Mexico. Our service areas also include Canada, so you never have to worry about roadblocks.
Work with our experienced team and leverage our services to reduce risks, explore cost savings, and gain resources via a partnership. No matter where your products need to go on the continent, the team at Tri-National will be here for you.
Warehouse Services
Efficient and effective methods are required to contain the burdensome costs associated with supply chain management. Tri-National is your single-stop warehousing, distribution, and 3PL fulfillment partner with the skilled workforce, equipment, and facilities to store, organize and transport your products at a value.
Professional warehousing includes:
Storage during multiple production phases
Consolidation (and deconsolidation)
Flexible resources for your ever-changing needs
Technologies to easily manage up-to-the-second changes.
Optimized distribution includes:
Pool distribution
Cross docking
Transfer services for multiple transportation modes
Sorting and transloading
3PL fulfillment includes:
Inventory management
Logistics services for product receipt and shipments
Solutions for clients of all sizes
Once your items leave our facilities, they will be in the hands of some of the best drivers in the industry. Tri-National believes in supporting our drivers with benefits and a fleet that remains strong and able to reach destinations on time.
Tri-National Services
The 3PL services Tri-National provides are driven by our mission to serve client needs. When you choose our team, you will receive around the clock support from our operations staff and bi-lingual customer service representatives.
We specialize in cross border shipping into neighboring countries and can help you with a wide variety of capabilities including import/export consulting, daily milkrun routes along the south Texas border with Mexico, and team transit for connections anywhere you need.
Additionally, we employ online technological tracking tools. Our team uses software to monitor trailers and view activity anywhere in the service network. You will also have access to satellite tracking for every freight order and our service centers are located throughout the NAFTA corridor to ensure support is always in the region.
Service Area
You will find Tri-National locations in regional proximity to all of our main service lines.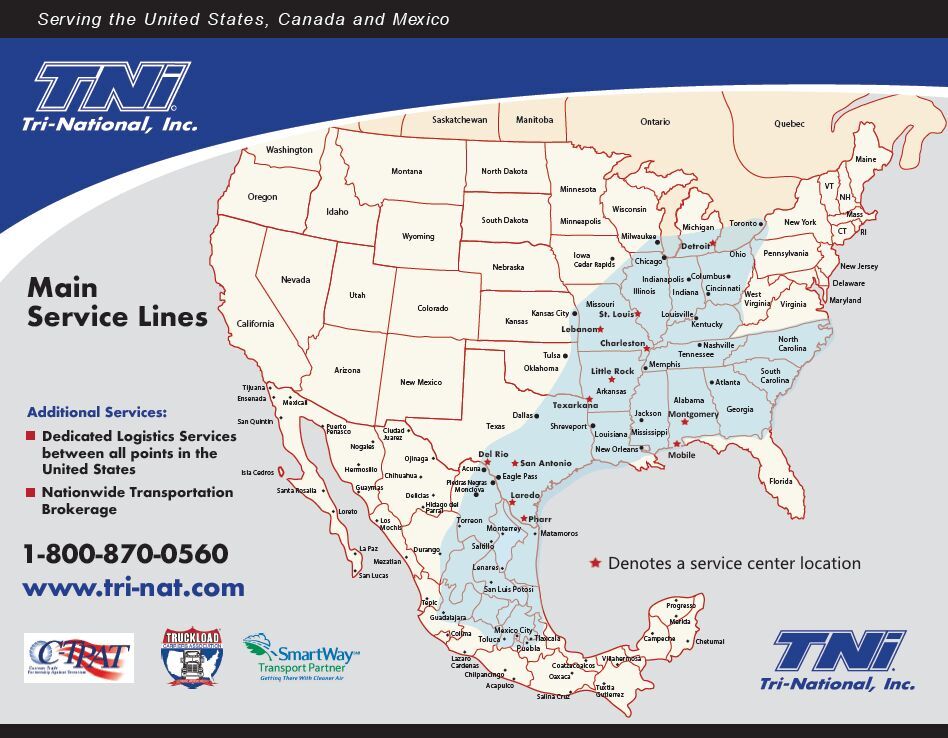 Contact Us Today
Improve your operational efficiencies with professional support and solutions from a dedicated 3PL provider. Tri-National is ready to work with you and can help your company overcome challenges with our tools, people, and resources. We want to talk with you about your needs. Contact us today for more information on how to get started.
---