Vote For TNi: A Top Company for Women in Transportation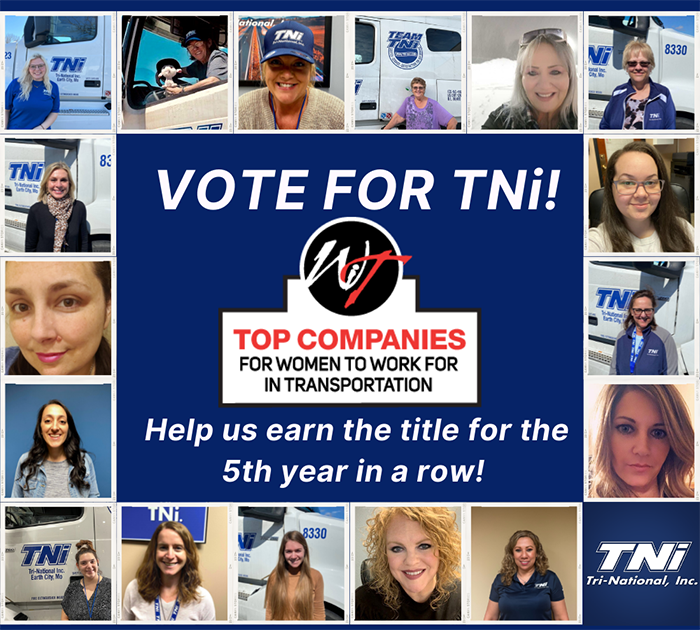 At Tri-National, we take great pride in being a company that welcomes female drivers, management, and employees. We are honored to be nominated for Women in Trucking's "Top Companies for Women to Work for in Transportation". We are proud to have received this award for the last four years.
This year, we have been nominated as a finalist, but we need your help to win! Please take a few minutes out of your day to help us receive this award for the fifth year in a row! To vote for Tri-National, Inc. please follow the steps for voting here. Voting ends July 3rd!
The Women In Trucking Association is a non-profit organization with the mission to encourage the employment of women in the trucking industry, promote their accomplishments, and minimize obstacles faced by women working in the industry.
As of today, 10% of TeamTNi employees are female. We strive to make the trucking industry a more welcoming environment for each and every individual. We see the struggles women face every day in the transportation industry and we work to limit obstacles in their career path.
When it comes to home time, no other company compares to TNi! Use your unlimited home time for family and personal matters; we will work with you to ensure your home time requests are valued and honored. At Tri-National, we understand that you hold a life and family outside of work and hope to provide the best options when it comes to getting you home.
If you have voted, THANK YOU! If you are one of our drivers, THANK YOU! A company employee? THANK YOU! We appreciate your hard work and support!
If you wish to become a driver for Tri-National, please feel free to reach out to our recruiting team at 866-378-5071 or follow this link to an online application.
Remember, voting ends July 3rd! Click the button below to vote now!

---