The International Roadcheck 2022: May 17-19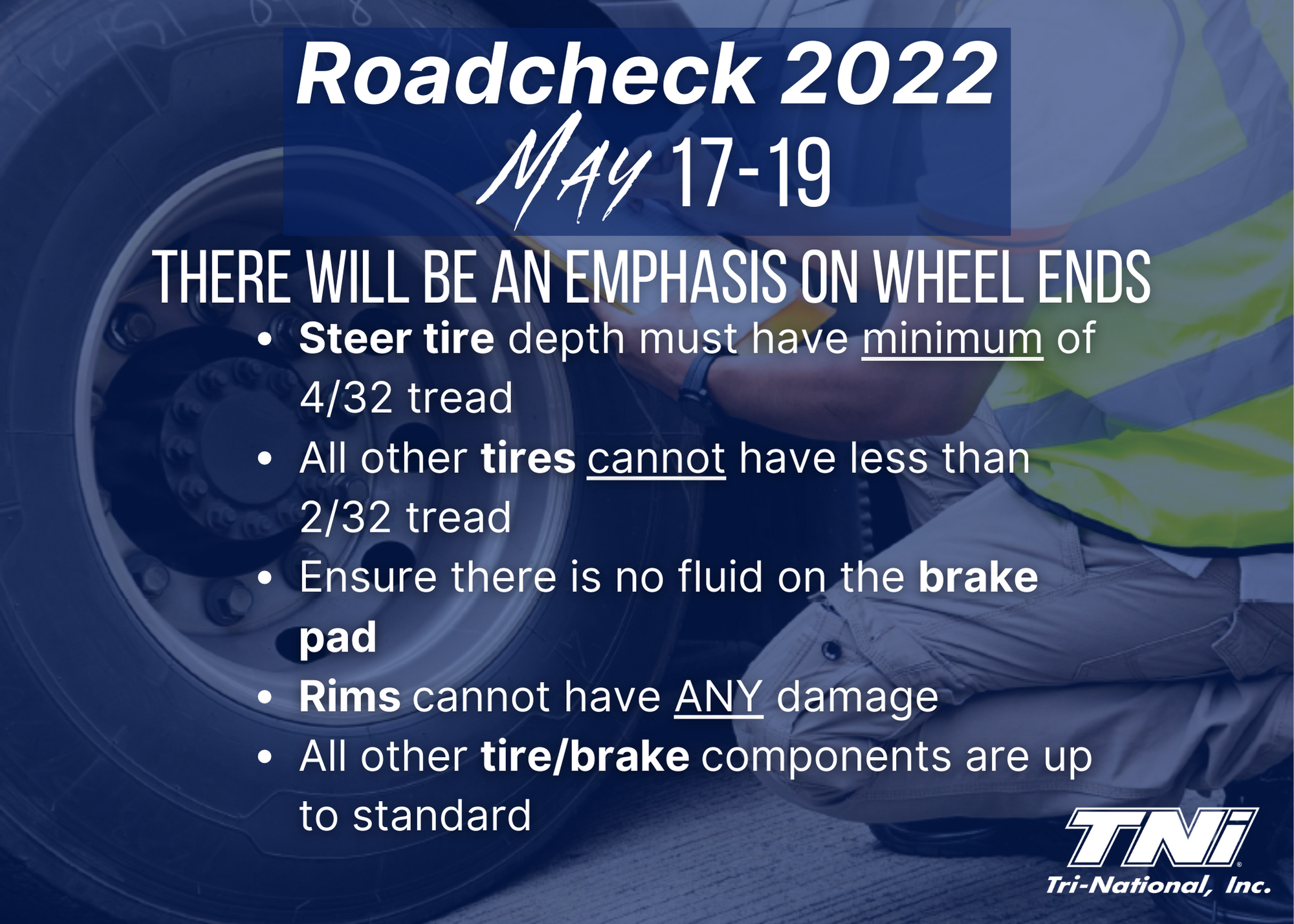 At Tri-National, we pride ourselves in having a satisfactory CSA score, with that comes ensuring we are following the correct protocol to pass each and every inspection. Next week, from May 17th to May 19th, the 2022 International Roadcheck will take place, with the Commercial Vehicle Safety Alliance (CVSA) placing a strict focus on wheel ends.
For 72 hours, law enforcement officers all across Canada, Mexico, and the U.S. will be conducting North American Standard Inspections of commercial motor vehicles to not only determine the condition of the vehicle, but also check for any out-of-service safety violations that can lead to both driver and vehicle restrictions.
These inspections will take place at weight and inspections stations, roving patrols, and at temporary inspections sites, and will also require drivers to have all of the correct documentation. This year, Wheel Ends are the primary focus, with a specific emphasis on brakes and slack adjusters, as these have historically been a top violation in past years.
---
Vehicle Inspection Checks
To prepare for a DOT inspection, here are various vehicle components we recommend checking:
Brakes
Entire Brake System Check – Missing parts, non-functioning parts, loose parts, cracked parts, or contaminated parts.
Audible Air Leaks
Slack Adjuster and Air Chamber (They both need to be the same length and size, respectively)
Non-manufactured holes
Broken Springs
Brake System Warning Devices
Pushrod Travel
All required lamps – check for color, operation, mounting, and visibility.
Lighting
All required lamps – check for color, operation, mounting, and visibility.
Rims, Wheels, Hubs, and Tires
Tires – check for inflation, cuts, tread wear, and bulges.
Sidewalls – exposed fabric, cord, improper repairs.
Wheels and rims – check for cracks, broken lugs, studs, or clamps.
Hubs – lubricant leaks, misalignment, and damaged or worn parts.
Suspension
Springs – missing, misaligned, shifted, or cracked
Loose shackles
Missing bolts
Unsecured axel positioning
Loose U-bolts
Essential in Cab Documents
ELD Packet
CDL
Physical (long form and med card)
Permit Pack
Insurance Card
8 days of blank COMPANY paper logs
Though the main points of the inspection will be focusing on rim, wheel, hubs, and tires every aspect is bound to be inspected. The inspections will consist of more than what has been listed, please ensure you are performing a proper pretrip inspection.
Learn More About RoadCheck 2022
For more information on the 2022 International Roadcheck, please call the TNi Safety Department Line at (800) 895-0915 x2001.
---
Become a Tri-National Driver Today!
If you're looking for great career opportunities as a driver and a company that puts safety first, there's no better place than Tri-National! With supportive amenities, including flexible home time, health benefits, bonus programs, and more, there's no other company that delivers quite like us.
Want to join TeamTNi? Please contact us today!