How to Eat Healthy as a Truck Driver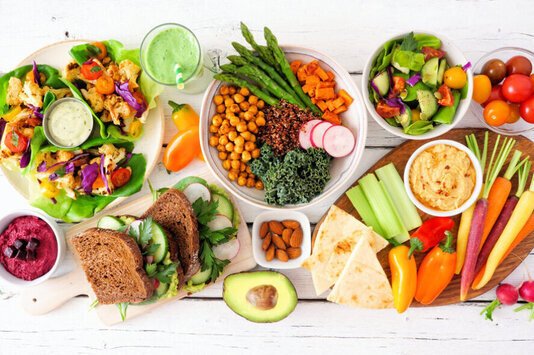 Eating healthy on the road can be challenging when your next meal is likely to come from a diner or a gas station. Logging miles and getting to your destination on time doesn't have to come at the expense of your nutritional needs and overall health.
Similar to your truck, you need the best quality fuel to stay alert and energized all throughout your long trip.
Packing your diet with plenty of fresh produce, protein, and healthy fats can help you keep health risks associated with a truck driving at bay. This includes heart disease, diabetes, obesity, and high cholesterol. We've gathered some of our favorite on-the-road healthy eating tips to help you stay in tip-top shape on the job.
Eating Healthy on the Road
Planning is key to eating well as a truck driver. Inexpensive healthy food might be hard to come across in remote parts of the country, so having quick, balanced snacks on hand should be a priority.
Our go-to healthy snacks to eat on the road include the following:
Fresh fruit is best but canned will do the trick as long as the juice doesn't contain any added sugars. Make sure to pair it with a handful of almonds, low-fat string cheese or sugar-free yogurt to keep you going for longer.
Hummus or guacamole with baby carrots or celery sticks is another winning combination that will keep you satiated for several hours. Not in the mood for veggies? Try some pita or whole-grain crackers.
Boiled eggs can become a fun snack if you add some reduced-fat herb cream cheese. Another idea: sprinkle half a tablespoon of pumpkin, sunflower, or hemp seeds on top for heart-healthy fats and crunchiness.
Protein bars, trail mixes, and plain popcorn will help you curb the munchies without expanding your waistline as long as you practice portion control.
A snack can only do so much for your satiety before you crave a hot meal.
If you're struggling to figure out how to eat healthy as a truck driver, investing in inexpensive cooking equipment can be a game-changer. Here are three suggestions:
A microwave for cooking frozen meals or reheating leftovers.
A portable stove, crockpot, or electric skillet is easy to clean and can be used to make healthy, comfort food such as baked cheesy chicken with green beans. Turn to YouTube for plenty of recipe inspiration and tips on cooking with these tools.
A blender can provide fast and filling breakfasts or lunches in the form of smoothies, and creamy soups.
Armed with the right knowledge and some handy tools, a great day of eating on the road can look like this:
Breakfast: A hot bowl of plain oatmeal topped with slices of banana and a generous spoonful of peanut butter.
Lunch: Grilled chicken, parsley potato wedges, and steamed broccoli.
Dinner: Low-fat cheese sandwich with whole-grain bread and low sodium tomato soup.
Snacks/ desserts: Yogurt with fruit; one peanut butter cup, small chocolate-covered almonds. Even with the best intentions, you might still need to stop at a restaurant.
Even with the best intentions, you might still need to stop at a restaurant. Maximize your chances of getting the most nutrients by choosing simpler meals such as:
Chopped salads with grilled protein and minimal dressing.
Grilled sandwiches with a side of steamed vegetables and fruit instead of chips and soda.
Hearty soups loaded with beans, vegetables, and lean protein.
From Panera Bread and Wendy's to Chipotle and Burger King, almost all restaurant chains can accommodate healthier swaps.
Apply For A Position
At Tri-National, we make our drivers' health and wellbeing a priority. We empower them to stay happy and fulfilled, so they can excel at what they do and have more to give when they reunite with their families.
Enjoy flexible home time, paid vacation, generous health benefits, and bonus programs by contacting us or applying on our career page.