Tri-National Driver Appreciation Week Recap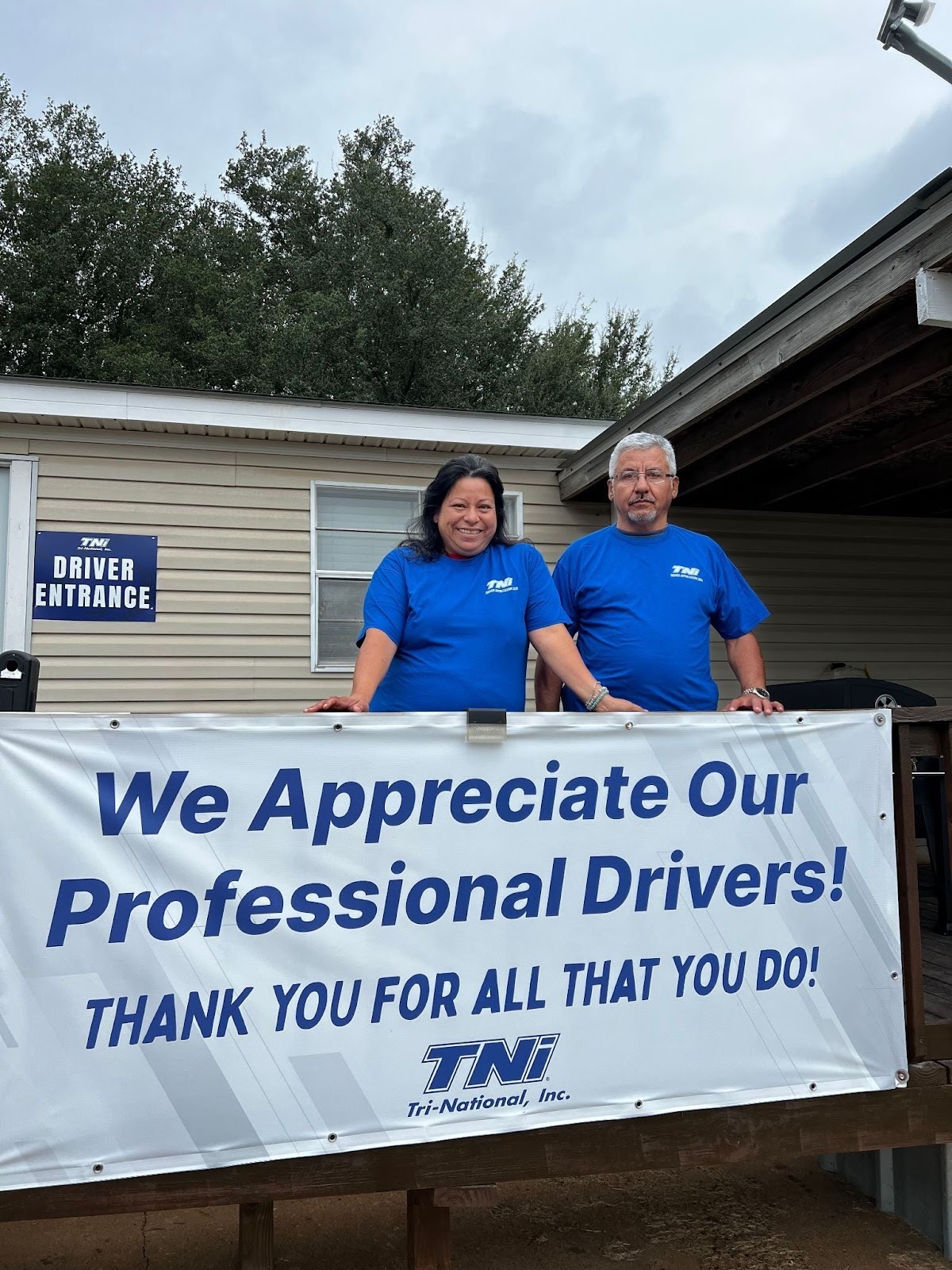 September 11-15th is a week Tri-National, Inc. looks forward to every year: National Truck Driver Appreciation Week. This is a week dedicated to celebrate and thank not only TNi's professional drivers but all truck drivers for the sacrifices they make each and every day.
Though Tri-National strives to show appreciation to drivers daily, this week is meant to show drivers how much they are appreciated for their hard work and dedication to Tri-National. These thanks were shown in a variety of ways, lunch, giveaways, and handshakes are just a few examples.
Here's a recap of what happened throughout the week:
Monday: We kicked off the week with Big Poppas Tacos, a food truck at our San Antonio, TX terminal! We also had a variety of breakfast and lunch options at our other terminals.

Tuesday: We had Chivos Tacos Food Truck visit our Pharr, TX terminal. In addition, there were BBQ and lunch options served at the other terminals.

Wednesday: We had Phillips' Lips & Tips Mobile Food Trailer at our Bryant, AR terminal. Again, we offered lunch at our other terminals.

Thursday: We offered another day filled with tasty food at our terminals. Both breakfast and lunch options were available at some locations.

Friday: We catered lunch from Rudy's BBQ at our Del Rio, TX terminal, and had the food truck, Backwoods BBQ at our San Antonio, TX terminal. Other terminals grilled and served other lunch items at the rest of our terminals.
Office and terminal staff had a wonderful time celebrating our drivers this week. Tri-National is appreciative for their hard work and dedication. We would not be Tri-National without #TeamTNi drivers! All drivers received custom TNi duffle bags, Driver Appreciation themed T-Shirts, and plenty of other "table items" some of which were donated by companies TNi works closely with. Items that were kindly donated were clothing, hats, flashlights, coolers, travel bags, ice packs, car fresheners, and many other goodies.
TNi also received and raffled off to drivers some very generous donations from our sponsors such as iPads, Yeti Coolers, TV's, Sound Bars, Gift Cards, Headsets, and many other amazing items!
Tri-National appreciates our drivers each and every day for all that they do, both on and off the road. Without professional Class-A CDL Drivers and their endless hours of driving safely, if that be in inclement weather, construction zones, rush hour traffic, etc.
Thank you, drivers!
Why is driver appreciation important?
Driver appreciation is important because drivers play a vital role in our economy. They transport the goods that we rely on every day, from food and clothing to medicine and electronics. Drivers also keep our roads safe and help to ensure a smooth flow of traffic.
By showing drivers our appreciation, we can help to attract and retain the best talent. We can also show drivers that we value their contributions and that we're committed to creating a positive work environment for them.
Overall, Tri-National had a very successful and engaging Driver Appreciation Week at all of its terminals across the states of Texas, Arkansas, Alabama, Georgia, Illinois, and Missouri! Many happy drivers and employees were seen, and the team is already looking forward to Driver Appreciation Week 2024!
Check out some pictures below: