Entering and Exiting TNi Trucks Safely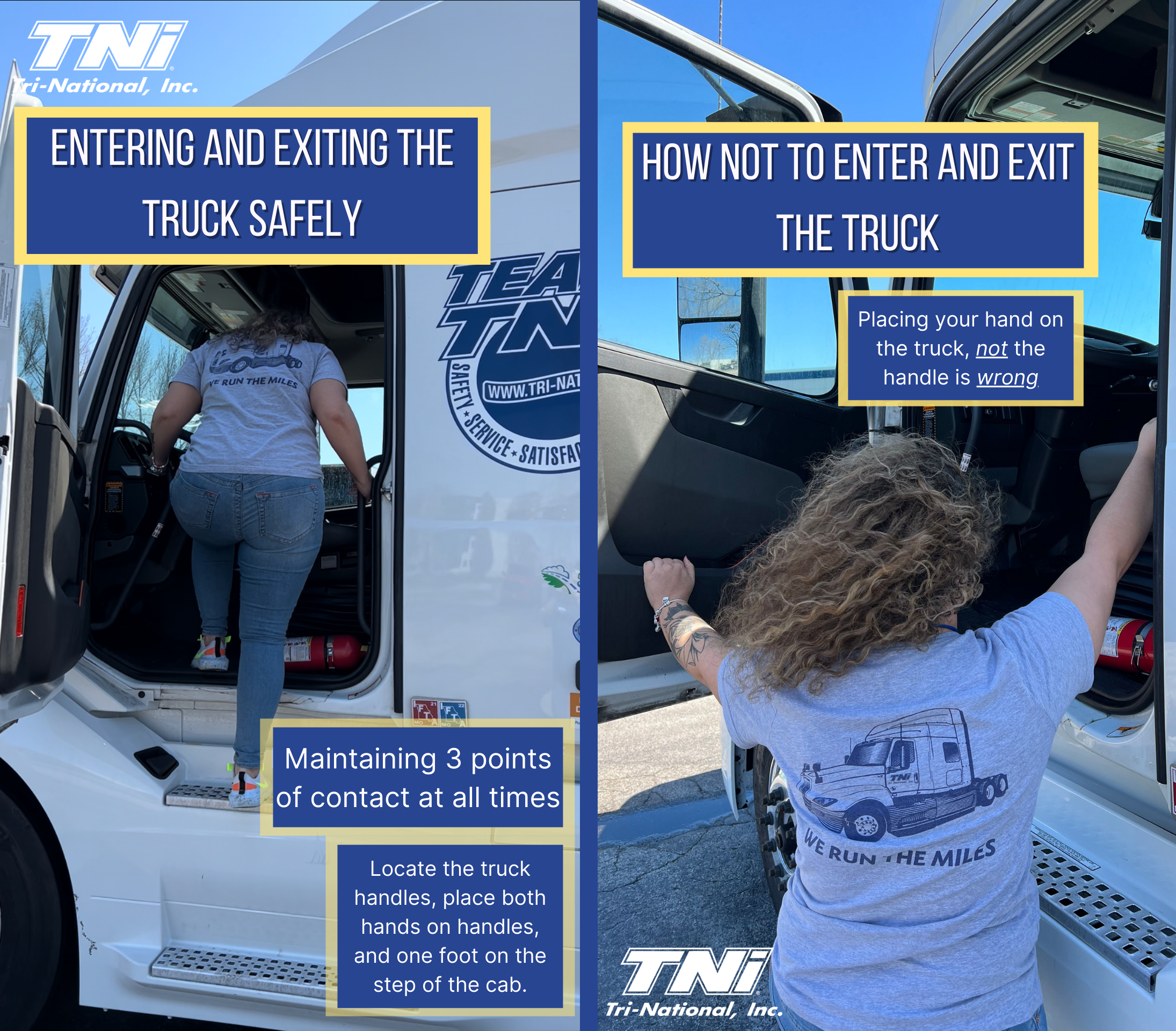 The act of safely entering and exiting a truck seems like a simple task, but the truth is that it is extremely easy to become injured. Truckers deal with constant hazards, they can become distracted, move too quickly, or fail to maintain three points of contact.
The Occupational Safety and Health Administration indicates that approximately 50 percent of all trucker injuries and illnesses are caused by strains and sprains, which commonly occur when accidents happen from improper truck entry/exit. Bruises, cuts and lacerations, and even traumatic injuries can take place when best practices aren't followed. By taking precautionary steps, truckers can better avoid injuries, and they have the tools and resources to promote a safer environment for everyone on their transportation team.
One of the easiest ways to remember to use precaution is through the three points of contact rule. But what is the three points of contact recommendation in trucking and why is it so beneficial? This contact method encourages truckers to form anchor points with their hands and foot, providing stability as they enter or exit the cab. With three points of contact, the person entering or exiting the truck has a balance of weight with a triad of limbs in contact with the truck at all times.
Implementing Precautions
When stepping up into the cab of a big rig, it may feel like second nature after years in the industry. But even the most experienced drivers are susceptible to injuries. The number one cause of injury for our drivers is falls: be aware and practice the three points of contact to safely enter and exit your truck.
Here are the dangerous behaviors to avoid while entering or exiting a TNi truck:
Moving too quickly: Jumping, being in a rush, not paying attention
Not using steps or door handles
Not having a firm grip or solid footing (For example: using wheel hubs as a step surface)
Using your phone (texting, talking, searching the internet)
Carrying objects (instead of placing them on the floor of the cab)
Not accounting for weather hazards (ice, snow, rain, etc.)
Wearing footwear and clothing prone to slips and snags
Observing these safety practices and staying aware will help prevent getting injured, keeping you healthy and safe on the road.
Using Three Points of Contact to Enter and Exit Trucks
Here is how to use the three points of contact in your truck:
Enter the truck with your body facing the cab: Locate the truck handles (do not enter a truck without handles or if they are broken). Place both hands on the handles and then put one foot on the step of the cab. The step should have a professional non-slip surface applied to it. With your foot and two hands firmly in place, take the nearest hand to the steering wheel and transfer it while pulling yourself up and into the driver's seat.
Exit the truck with your body facing the passenger's side of the cab: Slowly stand and transfer your hands, one grasping the door and the other the steering wheel. You can then step down onto the step. Once you have a firm footing, move your hands to the two truck handles and place your foot on the ground. (Remember: conditions may be icy or wet while exiting the truck so use extreme caution, especially if you are in or have been in hazardous weather conditions).
At Tri-National, we take safety very seriously. We are proud to carry a high CSA score and we do whatever we can to keep our drivers safe on the road. Are you an experienced truck driver that is passionate about keeping yourself and those around you safe on the road? We'd love to talk to you: contact our recruiting team to join TeamTNi
Apply for A Position
Tri-National, Inc. is a door-to-door transportation service provider, moving freight through the Midwest from Mexico via southwest Texas, into Detroit and Canada. TeamTNi is highly regarded in the trucking industry for delivering the highest levels of safety, service and satisfaction to their professional drivers as well as to the customers they serve. Tri-National champions women in transportation, recognized as a top company for women to work in the trucking industry for three years running.
If you are interested in joining TeamTNi, contact us today! We provide unlimted home time, lots of miles, great pay, PTO, sign-on bonuses, a supportive team, and so many other valuable driver benefits. Apply Now or call (866) 378-5071 to speak to our recruiting team.