Truckload Services
Tri-National, Inc. is a premier NAFTA transportation and third party logistics provider with door to door delivery services spanning from Mexico to Canada and milk run capabilities covering 400 miles of the Southern Texas-Mexico border. As a premier team transit services and logistics partner, we maintain a fleet of modern tractors and trailers equipped with satellite tracking, allowing us to meet and exceed on-time delivery windows.
Truckload Service Features
Online Tracking

In order to ensure accurate real-time updates, we keep our fleet up-to-date with the latest satellite tracking capabilities. Accessing delivery status is easy and can be done remotely day or night, straight from your phone or computer, by using our "Load Tracker" tool. Receive peace-of-mind and know the exact status of your freight whenever, wherever.

Bi-Lingual Support

You can count on Tri-National's dedicated support team to be there for you every minute of every mile. If you have a question about truckload shipping availability or status, we have a team of live bi-lingual support specialists waiting to take your call.

Import/Export Consulting

Internationally shipping and receiving freight is a complicated process that requires numerous steps and documentation, more-so than the domestic transport of goods. Tri-National trucking company has an experienced team of supply chain and logistics experts who can work with you to make these processes much smoother.

Third Party Logistics

We have the experience and capabilities to handle all of your supply chain and logistics needs so you can focus on what's important – growing your business. Partnering with Tri-National to handle your supply chain needs not only frees up valuable time, but may help your company reduce transportation costs.
Automotive Parts
Many large automotive parts require special handling requirements best-suited for freight shipping services. We work with the top automotive manufacturers as well as local shops from beginning to end to ensure the safe and timely delivery of goods. From engines to drivetrains, we specialize in transporting the auto parts that keep us all moving.
Just-in-Time (JIT) Freight
If your organization runs on a just-in-time production schedule, it's critical to have a truckload shipping and logistics provider you can trust. Tri-National's just-in-time freight services coordinate with our partners to ensure that shipments arrive at their destinations right when they are needed to reduce on-hand inventory and maximize space.
Service Center Locations
Headquartered in Earth City, MO and servicing the NAFTA corridor, Tri-National proudly serves the United States, Canada, and Mexico. Our wide network of truckload shipping service centers and partner carriers provide us with the flexibility required to make sure cargo gets where it needs to go on or ahead of schedule.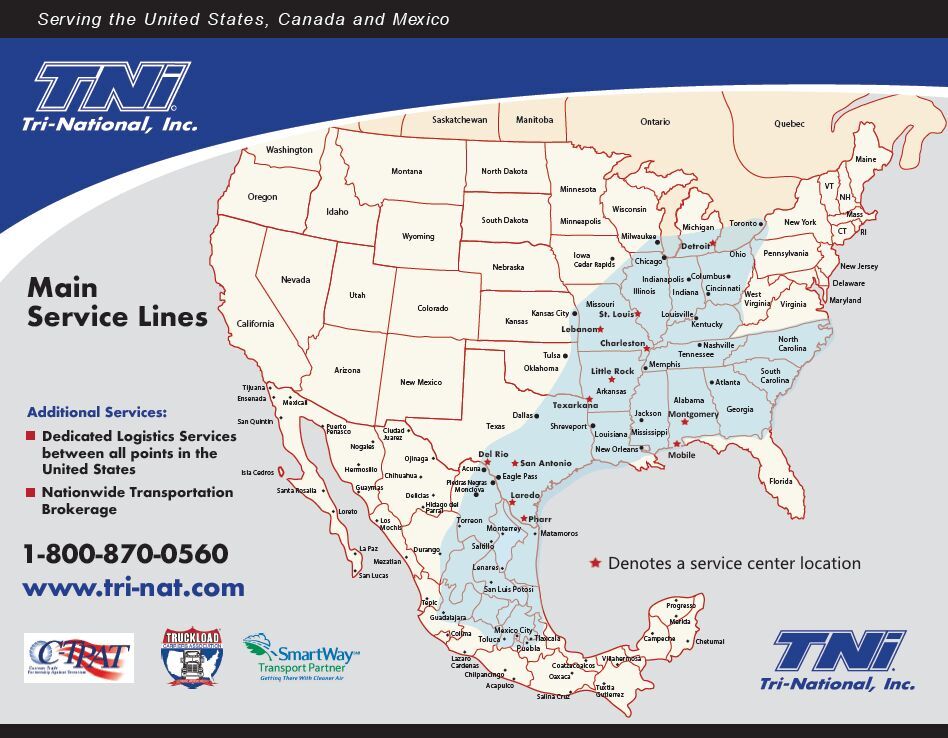 Contact Us Today
Timely and secure delivery is critical to the growth of your business. If you are looking for an experienced and dedicated truckload transportation services provider with the capacity to meet delivery deadlines and help your business overcome logistics hurdles, Contact Us today.
---