Cross Border Shipping Services
The professional freight transportation and third-party logistics (3PL) providers at Tri-National, Inc. offer reliable door-to-door cross border trucking services connecting the United States, Canada, and Mexico via the NAFTA corridor. With cross border milkrun capabilities spanning 400 miles of the South Texas-Mexico border, and an extensive partner carrier network, Tri-National has the capacity to handle any cross border shipping service that ventures into or out of our neighboring countries.
Tri-National's cross border trucking services are a step above the rest. Outstanding customer support, and an extensive fleet network specializing in the transportation of automotive parts and Just in Time (JIT) freight services are well-versed and fully capable of handling the added hurdles and paperwork required to send and receive cross border cargo.

Tri-National Services
You can be confident that once your cargo hits the truck, it will be cared for by the best drivers in the industry. Tri-National's strength is in its people, and we believe that supporting our drivers with great benefits is vital to their success and what's made us a leader in cross border trucking. In addition to freight carrier services, Tri-National also provides:
Import-Export Consulting
Shipping and receiving international freight can be a complicated process that requires added steps and additional documentation when compared with the domestic transport of goods. Tri-National has an experienced team of logistics and supply chain consultants that can work with your organization to help refine these processes. Our services make transport for imports and exports easier for the supplier and recipient.
Bi-Lingual Support
Tri-National bi-lingual support will respond to truckload shipping availability, status inquiries, and more, so you can be confident that is nothing is lost in translation.
3PL Services
Spend less time dealing with supply chain and logistics demands and shift your focus to growing your business, operations, and return on investment (ROI). Tri-National is an experienced 3PL, capable of handling all of your warehousing and transportation needs.
Online Tracking
Tri-National's fleet is equipped with the latest satellite tracking capabilities to ensure accurate, real-time updates. Obtaining delivery status is quick and easy. Simply access the "Load Tracker" tool from a computer or smartphone for immediate freight status updates day or night.
Service Center Locations
Headquartered in Earth City, MO, Tri-National is proud to serve the NAFTA corridor including the United States, Mexico, and Canada. A large network of shipping service centers and carrier partners provide Tri-National with the coverage needed to ensure freight cargo gets to its destination on time or even ahead of schedule.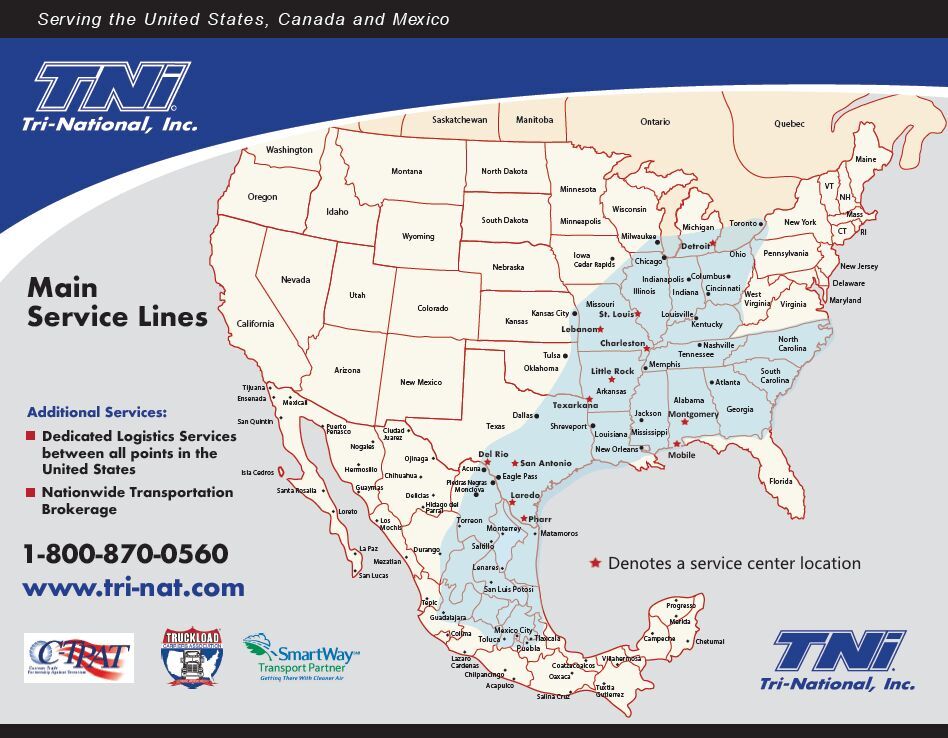 Contact Tri-National Today
An experienced and dedicated cross border trucking services company can make all the difference when it comes to overcoming the logistical hurdles involved with sending and receiving freight from across the border. If you are interested in partnering with Tri-National for cross border shipping services, contact us today to get started.
---