TNi Celebrates Five Years of Being a Top Company for Women in Transportation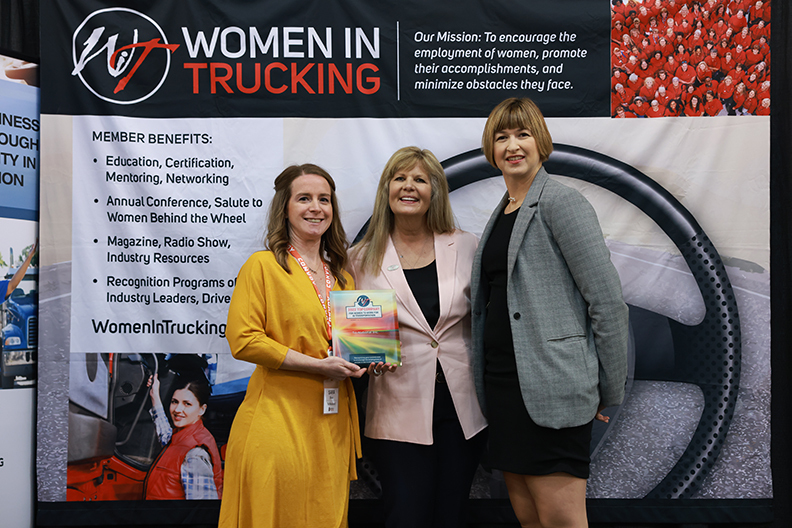 Tri-National has been recognized by the Women In Trucking Association for being a Top Company for Women to Work in Transportation for the fifth consecutive year! TNi representatives accepted this award in November at the Women in Trucking conference in Dallas: Accelerate 2022. This year's conference was the biggest ever, welcoming over 1700 transportation professionals, 100+ speakers, and over 150 sponsors and exhibitors.
The trucking industry has been a male-dominated profession since its inception, but many companies and organizations are making it a priority to mentor and support women who choose a career in transportation. The Women in Trucking Association (WIT) is a non-profit doing exactly that: their mission is to encourage the employment of women in transportation, promote their accomplishments and minimize obstacles faced by women in the industry. WIT has over 7000 members in over ten countries around the globe, advocating for women in every role in the trucking industry.
Women now make up over 13% of OTR truck drivers in the United States according to a recent WIT survey. At Tri-National, we have many female drivers on our team, and we are always looking for experienced female drivers to join our company! Women currently make up 30% of TNi's office personnel, supporting our accounting, HR, safety, operations, sales and recruiting departments.
"TNi is committed to hiring and championing women in the transportation industry," said Sara Shah, Director of Recruiting & HR at Tri-National. "We offer the flexibility and support for women in all positions to grow their career."
Tri-National is a great home for female transportation professionals, offering great family benefits and the most home time in the industry. Are you looking for a trucking company that empowers and supports women in transportation? Consider a career at Tri-National! Apply for a driving or office position today.